Welcome to the official website of Kunshan Vectec Automation Co., Ltd.
All
All
Product Management
News
Introduction
Enterprise outlets
FAQ
Enterprise Video
Enterprise Atlas
Hot bending furnace robot upper cooling section
---
Hot bending furnace robot cooling: requires glass to be cooled after cooling, glass to go in the air, save space and ensure the smooth flow of the ground, and avoid other ground equipment, the temperature is cooled from 280 degrees to 60 degrees, the entrance is the robot Placed, after 8 fans air-cooled into the lower line area, directly take it down and then enter the washing machine after sharding. If it needs to be temporarily stored, install the glass spacer on the lower right line and then carry on the robot palletizing. This equipment operation not only saves space but also saves at least 3 to 6 people.
Robot vision application technology: The high-definition camera is used to realize the accurate position judgment of the non-positioning workpiece. After the robot receives the signal, the robot installs a special hand claw customized for the workpiece to reliably grasp the workpiece and communicate with the machine tool. After the request is made, the machine is finally loaded and unloaded.
Robot sorting technology: Fast sorting of goods using sensors, objective lenses and electro-optical systems. Main features: (1) It can sort goods continuously and in large quantities. (2) The sorting error rate is extremely low. (3) The sorting operation is basically unmanned.
Robot palletizing technology: The palletizing robot operates flexibly and accurately, with high stability and high working efficiency, which greatly saves labor and space. The automatic palletizer is divided into two categories according to the intelligent level: robot palletizer and mechanical palletizing. Mechanical palletizers can be divided into: gantry type palletizing machine, column type palletizing machine, and mechanical arm type palletizing machine.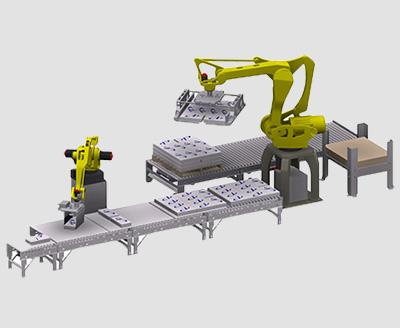 ---